"There's never a dull moment."
April 19th, 2022
Every second week you'll find Michael volunteering in the Hospice Shops' very own treasure chest – the Trade Me room.
This nondescript room tucked away in the Hospice's Retail Distribution Centre in Newlands is where the curios and collectibles so generously donated by the community have a temporary home. These treasures are carefully researched, photographed and uploaded to Trade Me by a small team of Hospice staff and volunteers like Michael.
Michael first thought about volunteering when a major personal health event sparked him to realise how short life is and motivated him to retire early. "I was in the very fortunate position of being able to retire at 50 and I wanted to spend my newfound time really making a difference in the lives of others," he says.

Hospice is a cause that is close to Michael's heart as his mother was in the Hospice's care three years ago. When his father passed away two years later, Michael was making the rounds to his local charity shops to donate some of his parents' possessions. As he was driving away from the Newlands Hospice Shop, the bright green signage stuck with him. He looked on the Hospice's website to see what volunteer opportunities were available. When he saw the online retail volunteer vacancy, he knew that was the role for him.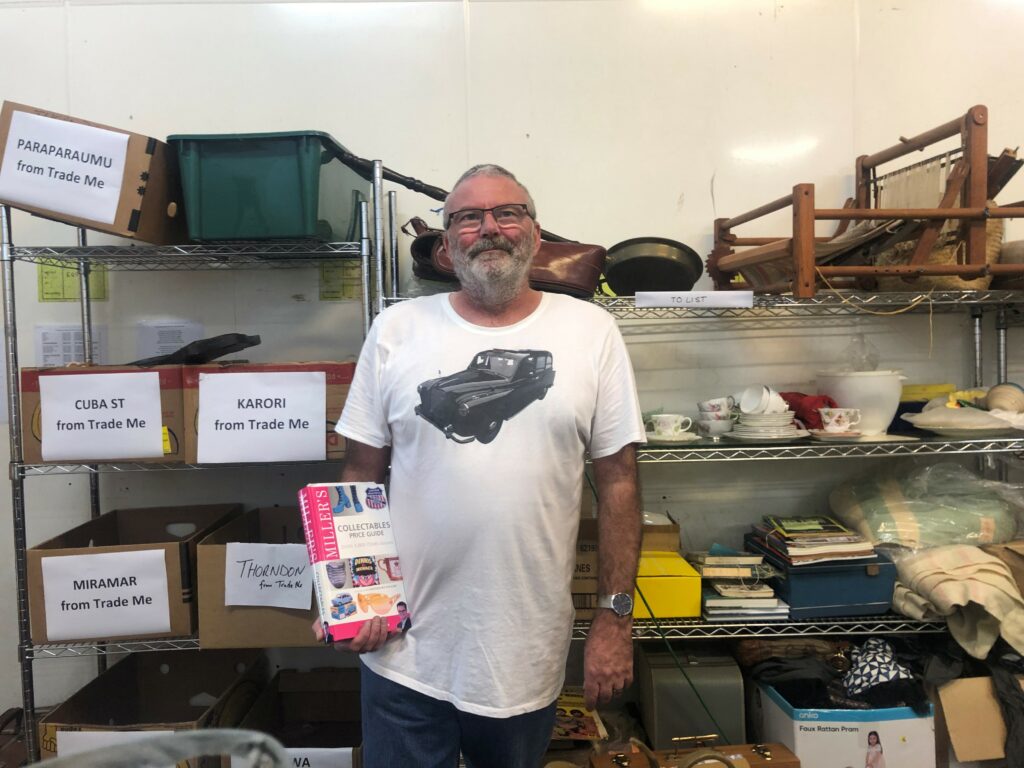 Having worked in financial services for 32 years, Michael is process-driven, confident with computers and has great customer service skills. He loves 'old things' and is an avid collector of model Holden cars, so he's used Trade Me personally for many years. "Top all that with off the location being local for me and how grateful I am to the Hospice for the support they gave my whole family. I really couldn't have asked for a better suited volunteer role."

"From Crown Lynn dinner sets to rare books – every shift is different and you never know what will be waiting for you," says Michael. The best gem he's (literally) uncovered so far has been the dusty box of 1970s Sci-Fi themed comics he found when he was vacuuming the Trade Me room one day. The comics seemed rare as he couldn't find out much about them and they fetched $305 on Trade Me for the Hospice.

It's an exciting time to join the online retail team as more people are becoming interested in retro goods and shopping sustainably. The online retail team do an important job in raising much-needed funds for the Hospice and are looking to grow to meet the potential in the online shopping space.
Michael says that anyone who is thinking about volunteering for the Hospice should give it a go. "There are so many different opportunities depending on what your skills and interests are."

"I look forward to volunteering – not only because I'm excited to see what's turned up in the Trade Me room – but also because everyone I volunteer with is so kind and passionate about helping the Hospice. There's never a dull moment and we have a lot of fun."
We're currently looking for more online retail volunteers to join our dedicated team based in Newlands. If you love working with second hand treasures, have good computer skills and excellent customer services skills – or are keen to develop in these areas – we'd love to hear from you! Find more information about this role and how to apply here.
Browse and shop our Trade Me listings here. A huge thank you to our local community for donating these special items to Mary Potter Hospice.