"They make you feel like royalty."
March 16th, 2023

When other health services couldn't help, the Hospice was my lifeline.

When Delis had a serious complication with her health condition, it was Mary Potter Hospice that was available to help her.

"The Hospice nurse was just marvellous. She followed up on my condition at regular intervals for three days until I came right.  It made me realise, this is what it [Hospice] is all about. I know I'm cared for," she said.

Apart from the urgent medical care and advice, Delis loves attending the Kāpiti hospice day programme.

"It keeps me alive – going to the day service energises me."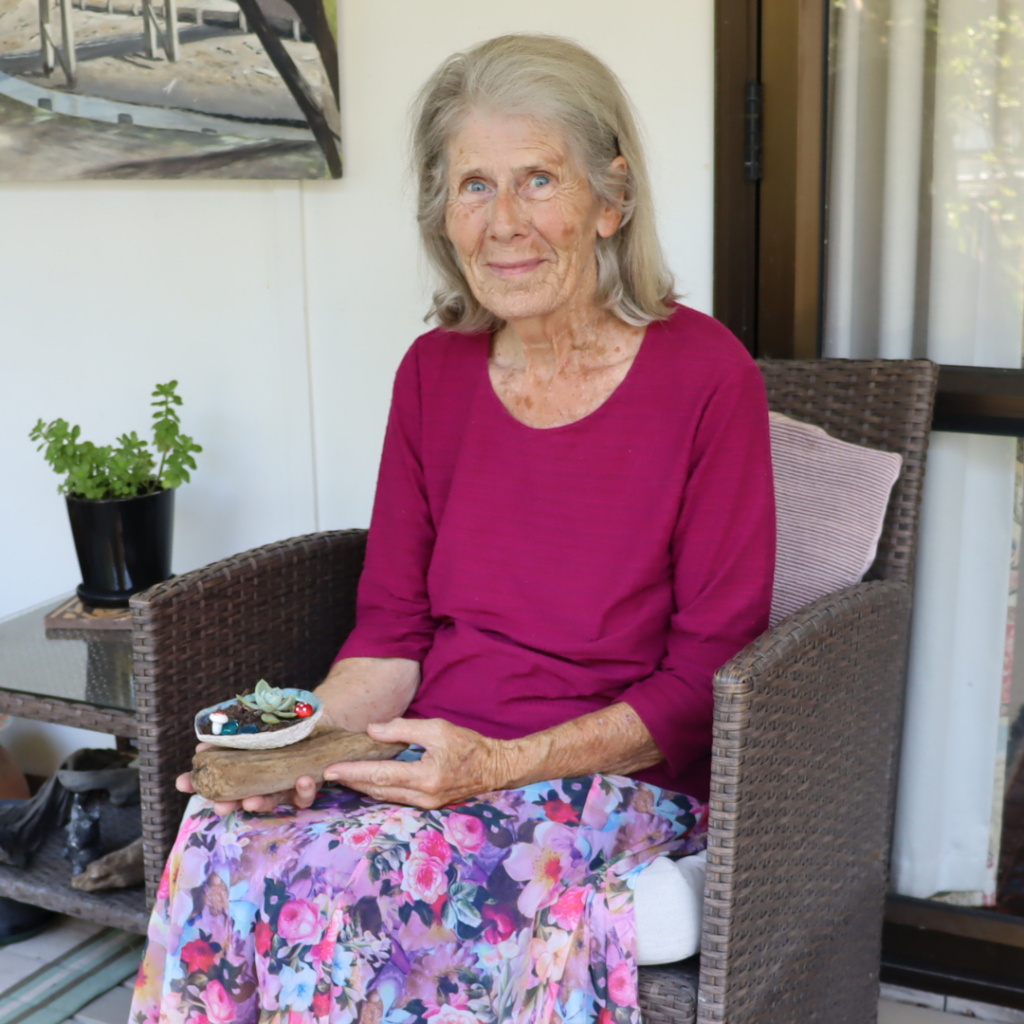 "The volunteers, drivers, staff and cooks nourish and nurture every part of our being. Our world as patients gets narrow. So it brings their world into our world. They make you feel like royalty. And I especially enjoy the conversations over lunch when we all share in each other's life stories."
Delis says she calls the day programme team her family. "We make cards, do gardening, made a Christmas cake and iced it, we play bowls, do quizzes and much more."
"I think about them a lot. I love getting to know them and their stories. We laugh and joke a lot – the group brings out the fun side of me."
Delis has always been independent with an adventurous spirit.
"I was going to wait until I retired to travel, but in my fifties when redundancies were at their peak I thought 'why am I waiting? Why not do it now?' So I did. I threw on a backpack and went temping around the world.'
"It was so freeing. I met so many wonderful people."
Delis started her adventure in Australia, then came back to New Zealand for a time. Then it was off to England, Scotland and Ireland and then back to New Zealand.
"When I was 60 I moved to Fremantle to be close to my newborn granddaughter. I wanted to give her the love my grandmother had given me. That was a very enriching time for me and of course I made the best of the ten years I spent with the Fremantle community… one of the best times of my life."
Just before lockdown, Delis found out about her cancer. "When it metastasised in my lungs 18 months later I chose 'quality of life' over chemo treatment. That meant I was discharged from the hospital system and put under the care of Mary Potter Hospice, but several months passed before I was in need of their care."
"I was very fortunate to have my older son stay with me during that dark lockdown period while I waited to be operated on. And 18 months later when my condition became terminal my younger son has been the wind beneath my wings."
Delis used to keep a journal, but she said it became boring writing about herself.
"Instead I now write about the fun times I have with my family at the Day service. 
"My goal has always been to live until I die. Attendance at the Day service gives me the confidence to do just that. It's a lovely place to be."

Your support today makes a lasting difference to the patients, families and whānau we care for.
Mary Potter Hospice provides free-of-charge hospice care for people with life-limiting illnesses and their families or whānau. We support patients and their families so they can make the most of the time they have left together.
Your donation will help keep hospice care free for people in your local community. Whether you're donating in memory of a loved one, in appreciation of hospice care, or simply because you believe in the work we do – thank you. It's people like you that make our work possible.