Music therapy is a beautiful and powerful inclusion in the services provided by Mary Potter Hospice.
Our musical therapist sh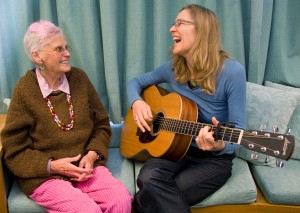 ares music with patients in the In-Patient Unit and their families.
For many patients the time spent with the therapist is based on songs that are favourites or have personal meaning. For some people the session results in the compilation of a CD or playlist of favourite, or significant music for them to listen to whenever they need it.
Sometimes the therapist helps patients write a song. This could be for a special family occasion. We've done several for weddings, one even becoming the 'father of the bride' speech. It could be a gift to a loved one, saying the things the patient wants them to know and remember.
This music therapy method has frequently been used when the patient has young children, the song becoming a lasting legacy for the children. Music for the songs is sometimes written along with the lyrics, but most often the words are set to a tune that has significance for the patient or their loved one.